Branch:
Monday: 10 a.m. to 1 p.m. & 2 p.m. to 5.30 p.m.
Tuesday: 10 a.m. to 1 p.m. & 2 p.m. to 5.30 p.m.
Wednesday: 12.30 p.m. to 5.00 p.m. & 6.pm to 8 p.m.
Thursday: 9.30 a.m. to 1 p.m. & 2 p.m. to 5 p.m.
Friday: 10 a.m. to 1 p.m. & 2 p.m. to 5 p.m.
Public PC's:
All our Public PC's shut down automaticaly 10 minutes before the branch closes.
No new sessions are allowed from 20 mintutes before the branch closes.
Phone: (051) 640591
Email: carricklibrary@tipperarycoco.ie

Public PC's:
A valid library card and PIN number are needed to access the public PC'S
PC useage must be paid for at the self service kiosk or from your Library Top Up account.
€0.50c for a 25 min session
Sessions may be extended in 15 minute periods if there are sufficient funds on your account and if the PC is available.The charge for these extended periods is €0.30 cents
The maximum time allowed on the PC is 4 hours over a 24 hour time period
The maximum time allowed in one continous session is 2 hours
Installed on each PC are Microsoft Office and Open Office
The PC's can read USB memory sticks, CDs, DVDs and SD memory cards
It is possible to print in both colour and in black and white ( A4 only )
It is possible to scan documents ( A4 only )
Remote Printing:
EMAIL:
carrickonsuirbwa4@printspots.com for A4 Black & White
carrickonsuircola4@printspots.com for A4 Colour
UPLOAD:
Go to this web address and upload the file http://www.printeron.net/tpl/carrick-on-suir
PrinterOn APP
Download the PrinterOn app and select where you wish to collect your printing
Free WiFi
A valid library card and PIN number are needed to access the Wifi.
Monthly: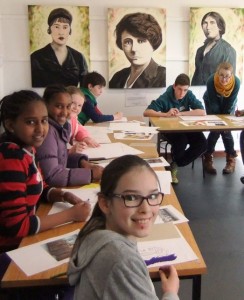 Evening Adult Book Club – 1st Wed of the month @ 7pm
Afternoon Adult Book Club – 2nd Tues of the month @ 2.30pm
Scrabble – Every Monday 11am-1pm
Art Group – Every Tues  10am -12pm
Literary Group – Every Wed 2.30pm – 4pm
Women's Discussion Group – Every Thurs 11am – 1pm
Knitters – Every Thurs  2.30pm – 4.30pm
Universal Class is an online education service designed specifically for use by members of public libraries and has a growing catalogue of over 500 courses.

ProQuest is an online service which provides information from the world's top newspapers. Researchers have access to both regional and national news from countries worldwide. Each issue of each newspaper is indexed thoroughly, so researchers have access to not only top news stories, but also the information contained on the various sections of the newspapers. Citations and abstracts are available for all articles saving researchers time.
Vision-net gives you immediate online access to information on every Irish and UK company registered. It provides you with access to the original documents that companies have filed in the Companies Registration Office. You can click on any C.R.O document (filed since 1998) and a scanned image of the actual filed document will appear on your screen which you can then print, view or save.

JSTOR is an interdisciplinary collection of journals and other materials. It contains more than 70 titles, including journals with moving walls between 1 and 5 years and ceased journals from the 18th,19th, and 20th centuries.The content is international in scope, and also provides a rich focus on Ireland.