Around Our Town Ep. 31 – The Coleville Road, Clonmel (Part 6) – Glenview
The evidence of Clonmel's industrial past is clearly visible today. The apartment complex on Little Island known today as Hughes Mills was once a thriving flour mill operated by the Hughes Family. Thomas Hughes (d1775) came to Clonmel from the midlands in the 18th century to work in the wool industry with fellow Quakers the Grubbs. Several generation of the Hughes family would experience success in business and would occupy positions of civic and social responsibility in the town. Griffiths Valuation tells us that Thomas Hughes (1814-1890) owned much of the south side of the Coleville Road in 1850.  Today this stretch of road is home to five grand old mansions all of which are protected structures:
Glenview
Brookdale
Glenam
Greyfort
Parkminster/ Greenpark
In todays episode of Around Our Town we will examine one of these houses, Glenview and the lives of some of the families who lived there.
Glenview
Glenview (pictured top) was built around the year 1840. Griffiths Valuation places one Richard Kellett Esq. as living there in 1850. We learn from Slater's Directory of Ireland 1856 that Richard Orlando Kellett was a barrister. Several of his fore-bearers and relatives served as mayor of Clonmel, Richard Kellett (1711), William Kellett (1753 &1759) Christopher Kellett (1780). Unlike many of his neighbours Richard Orlando was not a Quaker but rather a member of the  Church of Ireland. The Kellett's presence on the Coleville Road underscores its desirability among the professional classes. However sometime in the following 10 years Glenview changes hands and the Kellett's move to the  Clonacody. Perhaps retiring to the countryside.
A notice in the Freeman's Journal in 1866 announces the birth of a daughter to the wife of Alderman Crean JP at their residence of Glenview, Clonmel. Richard Crean was tanner and wool merchant who belonged to a politically well connected family. Sean O'Donnell tells us in Clonmel 1840-1900: Anatomy of an Irish Town, (p.255) that the Crean's had originally come from Fethard and their businesses were situated in Irishtown, Clonmel. He died in 1877.
Bassett's Directory of Tipperary lists two residents at Glenview for the year 1889. One the rather colourfully named Major L. Lesmond and the other Miss Prettie Power. Little else can be gleaned about this interesting pair apart from one snippet of information from the 1901 census which records the presence of Jane Prettie at Glenview in that year. Moving forward 6 years Rev William P Burke lists JM Murphy of Glenview, Clonmel as one of the original subscribers to his book, History of Clonmel. 
A detailed architectural appraisal of Glenview is available here on the web site of the National Inventory of Architectural Heritage.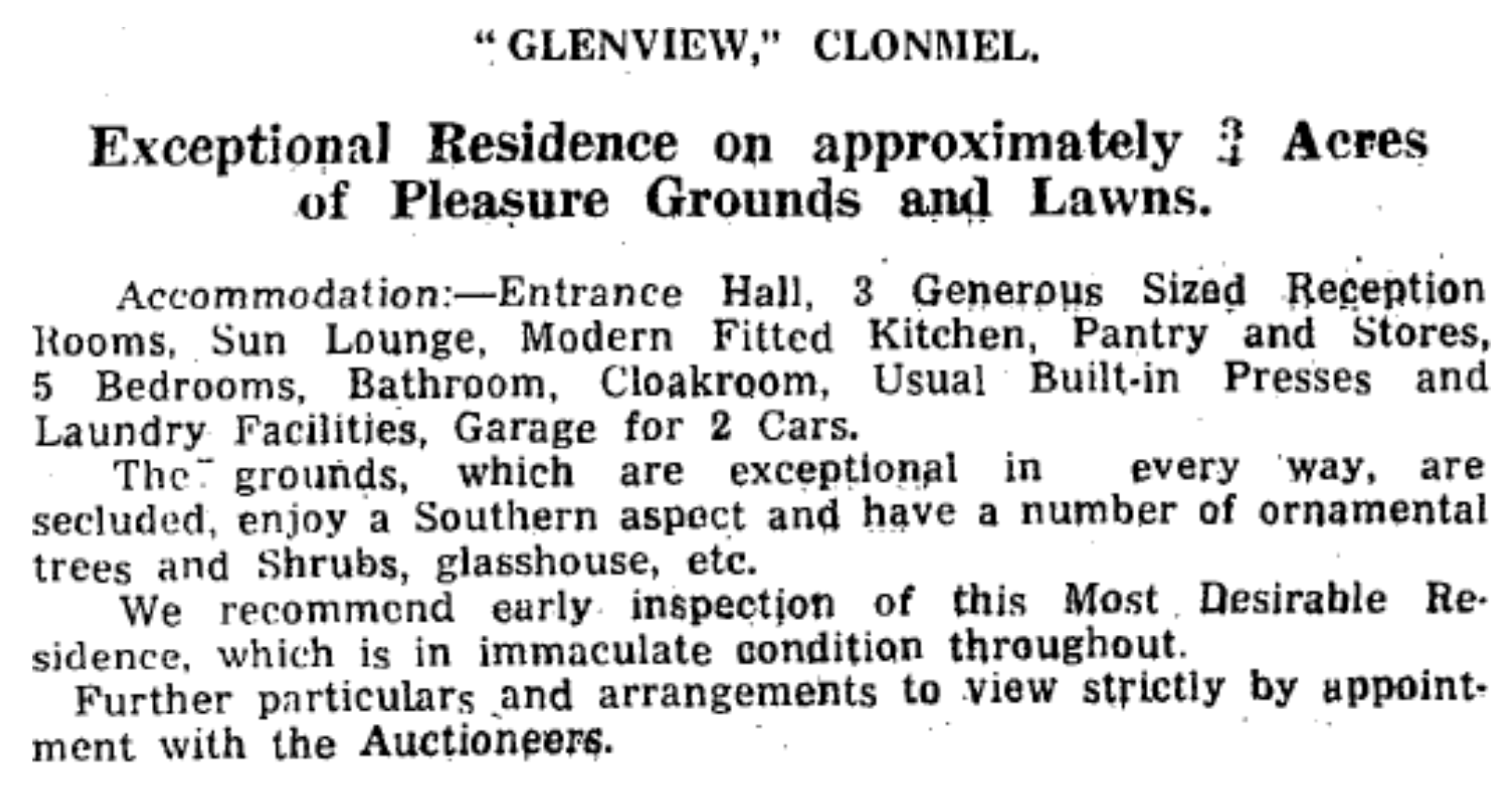 Glenview is interesting for a number of reasons. It demonstrates that professionals and politically influential families were moving to the suburbs in the 19th century and the Coleville Road was not solely the preserve of Quaker Industrialists.
Though smaller in its proportions than Merlin or Minella, Glenview does process a certain world charm. It is still occupied as a private residence today.
Bibliography
Ahern, M. (2009) The Quakers of County Tipperary 1655 -1924
1856 Slater's Directory – Clonmel (igp-web.com)
Bassett's Directory – 1889 (igp-web.com)
O'Donnell, S. (2000) Clonmel 1840-1900: Anatomy of an Irish Town