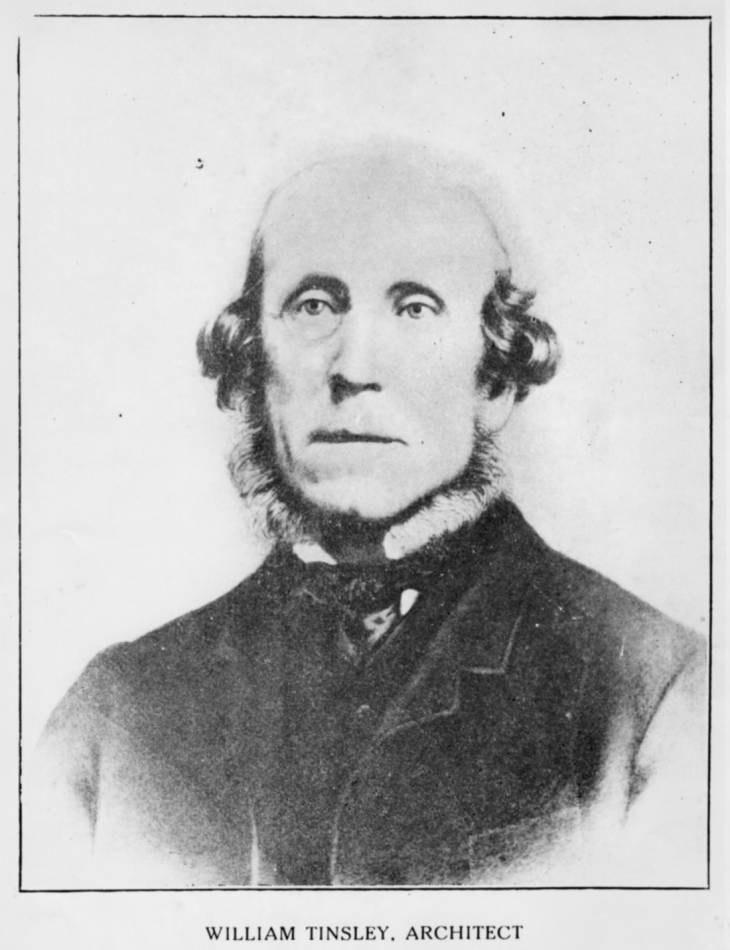 Around Our Town Ep. 20 – William Tinsley – Clonmel's Architect
William Tinsley was born at Mary Street in Clonmel in 1804. His father, Thomas, had a building business in the town as had several generations of Tinsleys' before him. Indeed a construction company baring the family name (Tinsley Construction Ltd) operates in Clonmel today. The Tinsleys were fervent Church of Ireland folk and William, in later life, would describe his father as a staunchly outspoken loyalist (Ahern, M. 2006, p.186). A stained glass window commissioned from the studio of Harry Clarke in memory of Thomas Tinsley (born 1830) adorns the south facing wall of Old Saint Mary's Church. Strictness in matter religious would go on to become one of William Tinsley's defining characteristics.
It came as little surprise when  young William developed both an interest and acumen for the family profession. He would go on to become an architect of some renown. His career can divided into two distinct periods . There are those buildings which Tinsley either designed or built in Ireland up to  September 1851 (prior to his immigration to Ohio) and there are those which he undertook in United States after that date. In today's episode of Around Out Town we are going to focus on some of the buildings Tinsley built in the town of Clonmel. Many are still in use today. It would be difficult to overstate the importance of his contribution to the architectural heritage of the town.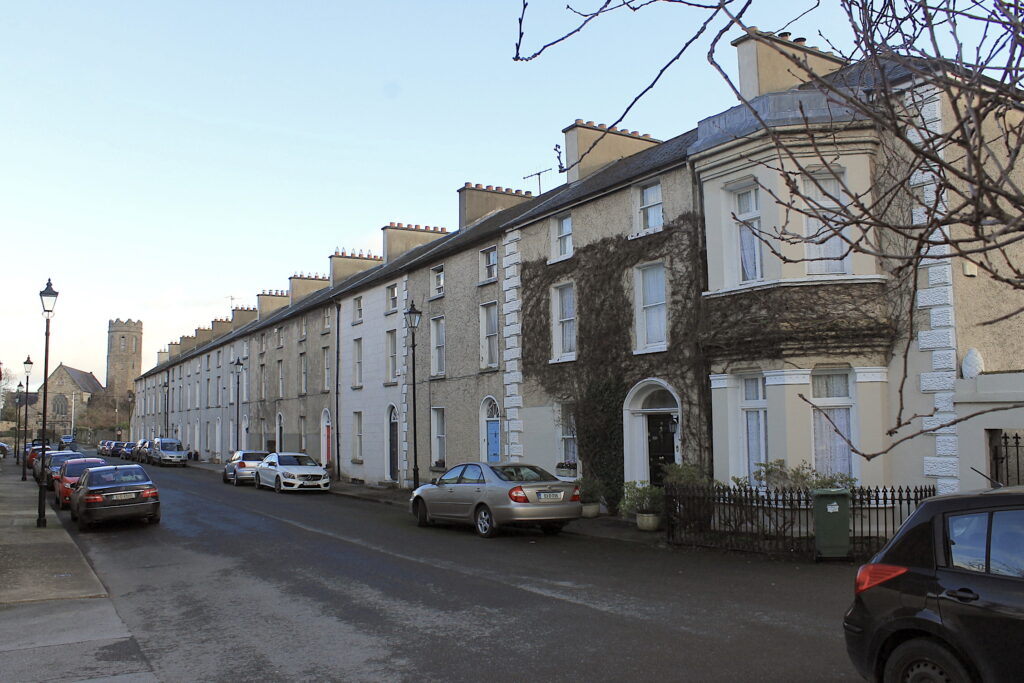 One of the earliest projects in which William Tinsley was involved with was the construction of 24 townhouses at Anne Street, Clonmel in 1820. William worked under the supervision of his brother John who had taken over the family business following the retirement of their father, Thomas. Built in the shadow of Old Saint Mary's Church this terrace is still considered one of Clonmel's most beautiful streetscapes.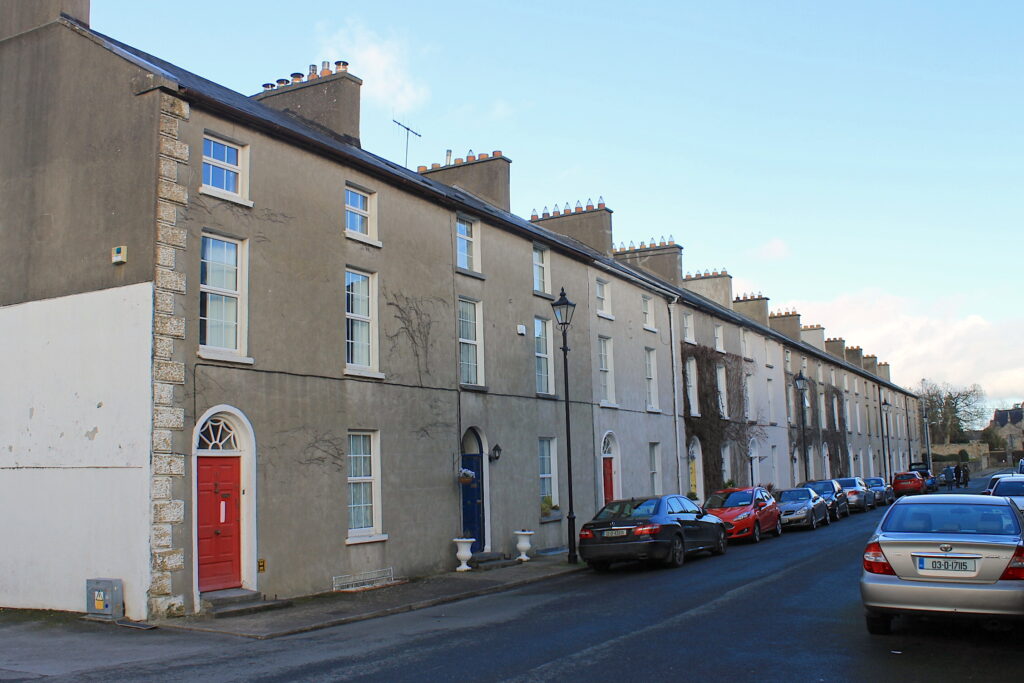 In 1831 William Tinsley designed and built Ashbourne House on the Coleville Road for a local businessman and friend Robert Davis. It is of the gothic revival style and the National Inventory of Architectural Heritage tell us that
It incorporates architectural elements typical of its style such as the steeply-pitched roofs and the pointed arches to the porches and its façade is enlivened by features such as the render label mouldings and pilasters.
Ashborurne House remains a private residence today.
The building below on Parnell Street in Clonmel was built by William Tinsley around 1835. It has at various times in the past been used as a public library and museum.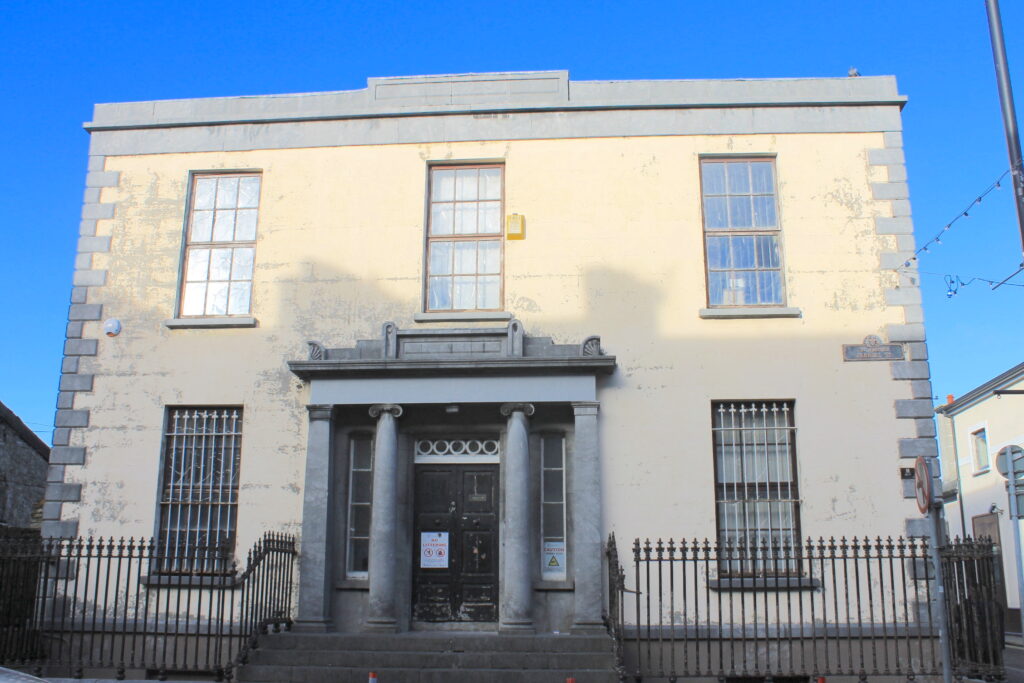 In 1837 Tinsley built Adelaide House in Irishtown. He would live here , with his family, until his immigration to America in 1851. Unfortunately it was demolished in 1964 to make way for Saint Mary's Christian Brothers School. Tinsley would design and build many churches during his long career. Scotts Presbyertian Church on Anglesea Street in Clonmel is but one example. Built in 1838 it is in the Grecian style with a portico and six massive pillars. It is no longer in use as a place of worship.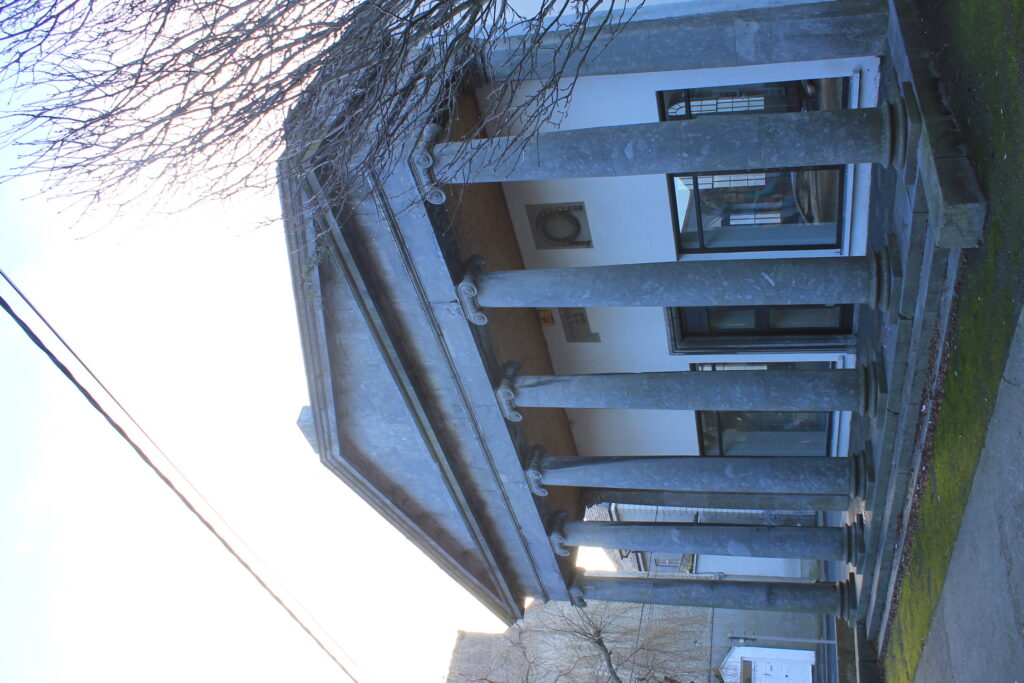 Situated very close to Ashbourne House on the Coleville Road is Roseville House. Forbes (Victorian Architect: The Life and Work of William Tinsley, 1953, p.36 ) tells us that it was built for the Murray family in 1842. The Murrays were a Quaker family who were involved in the milling industry on Suir Island. Like its near neighbour it is in the gothic revival fashion. Today the house forms part of the Loretto Secondary School.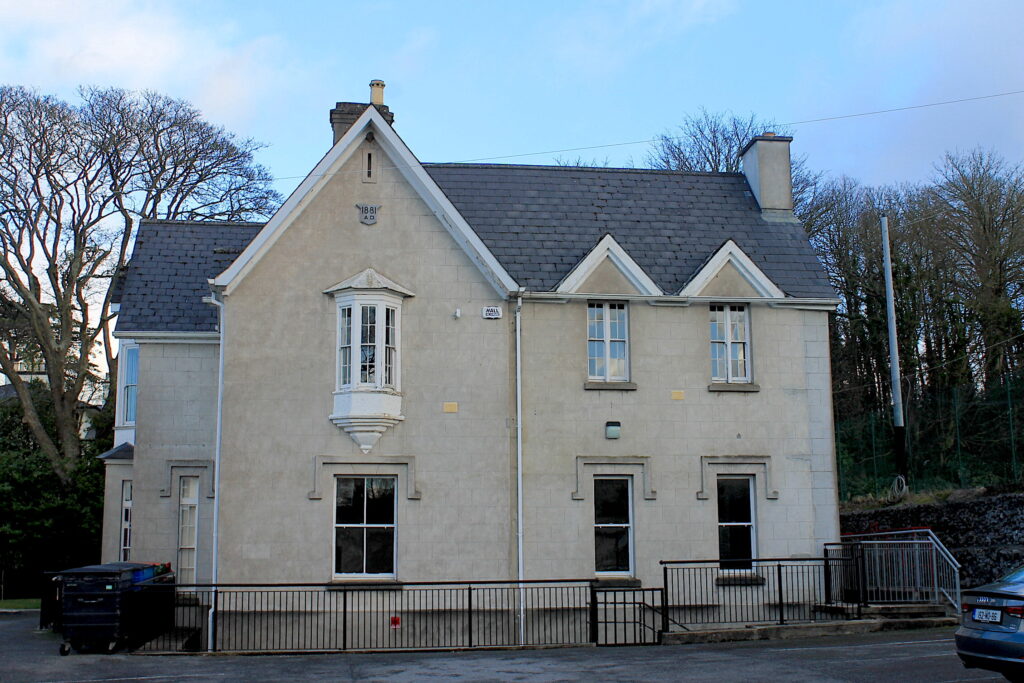 Perhaps Tinsley's most personal contribution to Clonmel is the Wesleyan Methodist Chapel on Gordon Street built in 1843. O'Flaherty (William Tinsley: Clonmel Architect and Builder, 2020, p.4) describes how
having heard John Wesley preach that William's parents embraced Methodism and at the age of twenty William enthusiastically followed there example
The chapel has been constructed in the style of a modified Greek temple and represented a significant spiritual and financial investment on William Tinsley's part. Today the chapel is used as a theatre.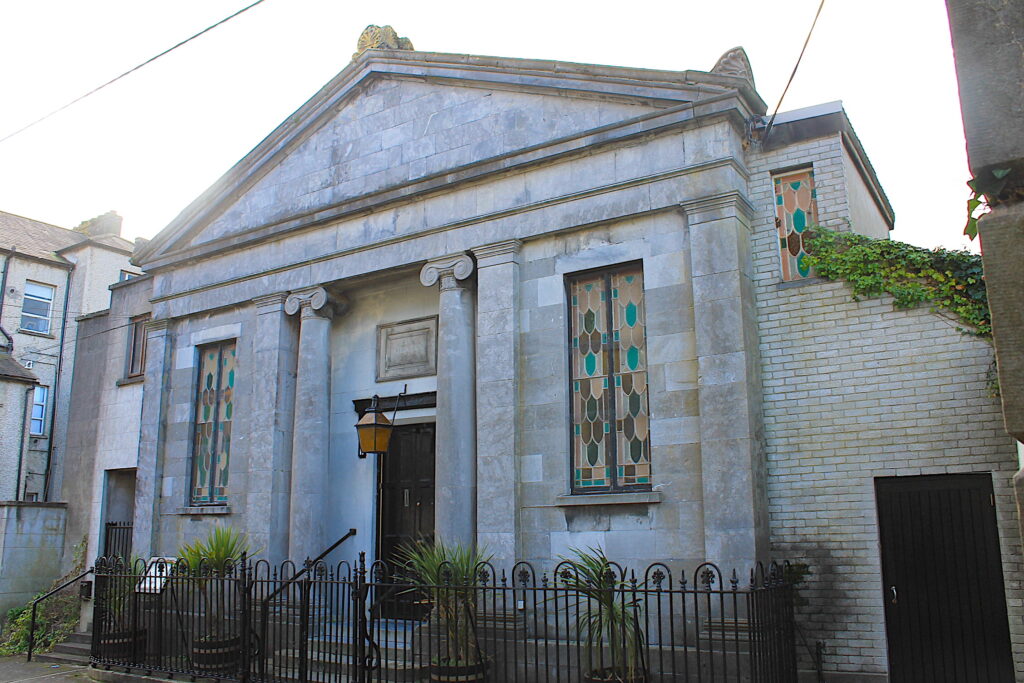 William Tinsley designed, built or restored numerous buildings of significant public interest in county Tipperary and the south east of Ireland in the first half of the nineteenth century. Most notable are Tullamain Castle near Fethard, Rockwell Collage near Cashel, Turtulla House near Thurles and a remodelling of the town centre of Cahir for Lord Glengall. In America he completed projects of an even greater scale and complexity and went on to achieve some fame.
He was undoubtable a complex character who endured serious personal and professional tragedy on more than one occasion in his life. He was also, as Michael Ahern points out in his book Figures in a Clonmel Landscape,  religiously intolerant and a man of narrow sectarian views. Despite this it does seem extraordinary as Tom O'Flaherty asserts in his booklet on the man that he is all but forgotten in the town where he was born.
Biliography
Ahern Michael (2006), Figures in a Clonmel Landscape.
Forbes, JD (1953), Victorian Architect: The Life and Work of William Tinsley 
National Inventory of Architectural Heritage: https://www.buildingsofireland.ie/buildings-search/building/22122002/ashbourne-coleville-road-raheen-clonbulloge-pr-clonmel-tipperary-south
O'Flaherty, Tom (2020), William Tinsley: Clonmel Architect and Builder