Around Our Town Ep. 38 – Attempted Abduction at Rathronan
On Sunday the 2nd of July 1854 the church at Rathronan was the scene of an outrageous incident that would be talked about by the people of Tipperary for years to come. It was here John Rutter Carden attempted to abduct Eleanor Louisa Arbuthnot.
Carden was a gentleman of some standing being a magistrate and Deputy Lieutenant of Tipperary. He resided at Barnane Castle near Templemore where he presided over a substantial estate. At the time of the attempted abduction Eleanor Louisa Arbuthnot was visiting her sister, Jane, whose married to Captain George Gough of Rathronan House. The Goughs were family who had achieved considerable distinction through military service.
Newspaper reports of the time describe Eleanor as a lady of great accomplishment, refinement and education. She was considered beautiful and a heiress to a substantial fortune. The Arbuthnot's from Surrey in England. Eleanor was 21 at the time of the attempted abduction and Carden was 43.
Eleanor and Carden had first met three years previous at a number of social occasions in Tipperary. Carden is said to have been besotted with Eleanor but unfortunately the feeling wasn't mutual. Not to be deterred he pursued her vigorously convinced that she harboured feelings for him but that her family would not permit a relationship.
All of this culminated in the events of that Sunday morning in July 1854. While traveling from church at Rathronan the three Arbuthnot sisters and their governess observed the figure of Carden approaching their carriage on horseback at pace. Carden had set in motion a plan to abduct Eleanor and had enlisted the help of a group of men from his estate. One of the group cut the traces connecting the horses' harness to carriage thus immobilizing it. What ensured was an attempt by Carden to physically remove Eleanor from her carriage to an another which Carden had prepared for the purpose.
Carden had not reckoned with the fight the Arbuthnot women were to offer in defense of their sister. They wounded him about the head and neck and at one point Carden shouted…
Eleanor, Eleanor it is you that I want
Most crucially a last minute decision to opt for a covered rather than an open topped carriage seems to have saved Eleanor. This coupled with a the arrival of assistance from a number of men who were nearby was enough to drive Carden off. Reluctantly Carden withdrew and took off at great speed in he direction of Cashel.
The alarm was raised shortly in Clonmel and the authorities were soon in pursuit. Officers overtook Carden and his party just north of Holycross at place called Farney Bridge. He was within four miles of his home at Barnane. He was taken direct to the jail in Cashel.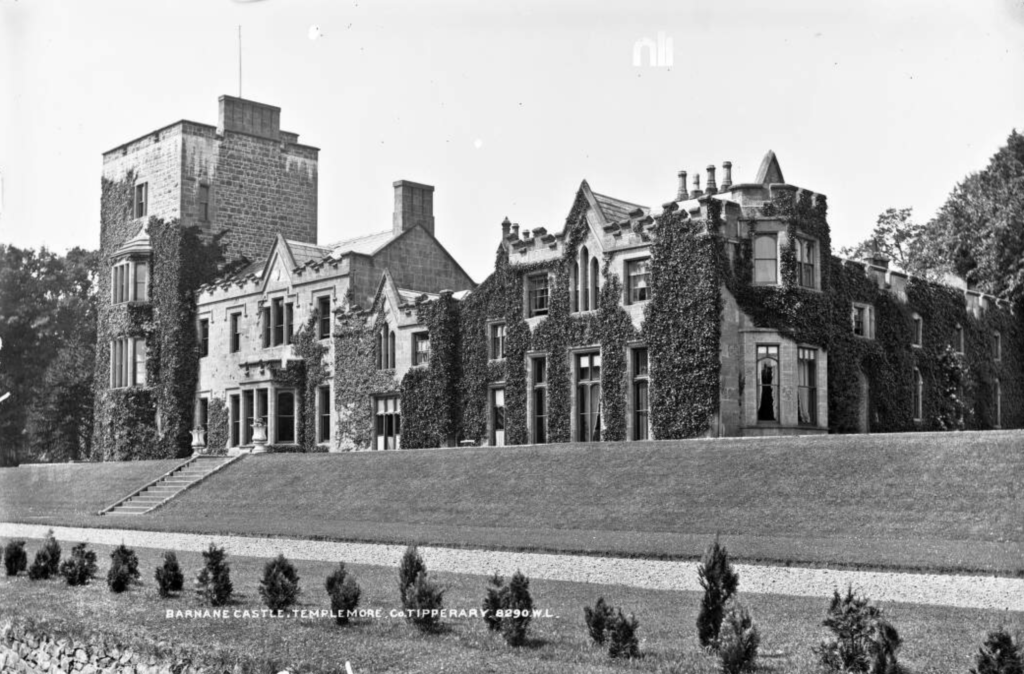 In less than a month Carden was put on trial in Clonmel. It was the subject of huge public interest. Carden was charged with attempted abduction and felonious assault. The trial caused a national scandal as sensational details of Carden's plan became known. He had spent a small fortune (£7,000) on his failed bid to steal Eleanor away. Fresh horse were stationed at regular intervals between Tipperary and Galway. Here Carden had chartered a ship to take himself and Eleanor to London. On his person at the time of his arrest was found a loaded double barreled pistol and in bag containing chloroform and smelling salts. Carden was found guilty of the attempted abduction but acquitted on the assault and sentenced to two years hard labour. A sentence almost unheard of for a man of Carden's social status.
Despite serving his sentence Carden's obsession with Miss Arbuthnot did not cease. In later life he would again be arrested and questioned about plans to abduct Eleanor. He died, unmarried, in 1866 of congestion of the liver. Eleanor Arbuthnot passed away in 1901. She also died unmarried.